This year will mark a critical U.S. retail milestone, as ecommerce will cross the $1 trillion mark for the first time, according to the latest retail forecast from Insider Intelligence. We now expect total U.S. retail spending in 2022 to grow by 6.4% year over year to reach $6.988 trillion.
One of the most defining trends of the ecommerce holiday season in the last two years has been the extension of the shopping spree to almost three full months starting in October. If in 2020 and 2021, fears around inventory and supply chain triggered that consumer behavior, this year, the primary motivating factor driving early purchases will be inflation, according to Caila Schwartz, Director of Consumer Strategy and Insights, Salesforce. Recent research by Salesforce reports that 42% more shoppers worldwide and 37% more in the U.S. plan to start shopping earlier as they hope to pick up their gifts before prices climb.
Inflation in the United States is averaging around 8.5% mark – the highest in more than 40 years. Senior contributor at Practical Commerce, Armando Roggio, predicts that holiday consumers might start shopping even earlier this year, knowing that annualized prices are rising between 6% and 8% per month.
"Over the long term, the ecommerce market has plenty of room to grow and could increase from $3.3 trillion in 2022 to $5.4 trillion in 2026. We believe that the Covid-driven bump will not flatten future ecommerce growth," said Brian Nowak, Managing Director, Morgan Stanley, and a leading U.S. internet analyst. He sees ecommerce reaching 27% of retail sales by 2026. "Across the world, we have yet to see a ceiling for ecommerce penetration."
The 2021 peak season and consumer trends research conducted by FedEx showed that 58% of consumers find mobile apps more convenient than any other channel. "2022 will see mobile commerce drive essentially 50% of ecommerce holiday sales," predicts Insider Intelligence. "The stakes are rising to establish a strong mobile brand presence, drive app engagement, and create seamless mobile transaction flow that becomes habit-forming for consumers."
Ecommerce merchants have to begin their preparations for holiday sales now. And while 100% uptime, comprehensive security, and lightning speeds are table stakes, personalization and mobility are increasingly becoming critical as consumer expectations and behaviors change. Also, as merchants embark on their omnichannel ambition, nothing else can underline the immense opportunity at hand better than this: 60% of digital orders are now influenced by the store – be it demand generation or fulfillment. Salesforce predicts that retailers with physical stores will grow online sales at a rate 1.5 times faster than those without them.
For the last eight years, Webscale has worked with thousands of ecommerce businesses to ensure a flawless shopping experience for millions of shoppers. We've captured our learning and best practices in this eBook.
But if, like me, you're a visual person, the infographic below highlights the key challenges merchants face and how Webscale can help you ensure happy customers and huge revenue.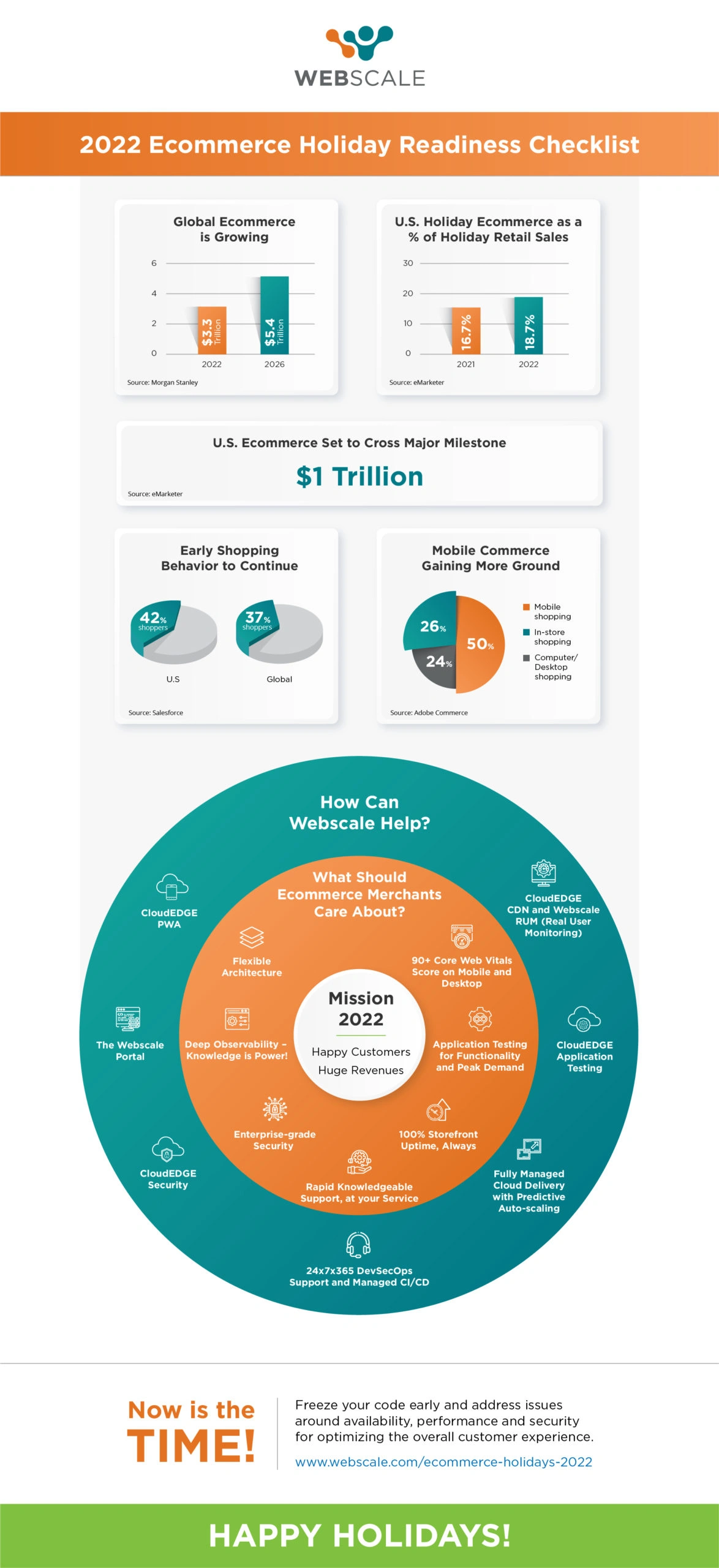 Feel free to use the infographic on your blog/website with appropriate attribution to Webscale. Copy the code in the text area below:
If you'd like help preparing your storefront for the ecommerce holiday season, please click here to schedule some time. If you'd like to catch us at any upcoming events, we'll be at Meet Magento New York, Ecommerce Expo, and MJBizCon.