Webscale CloudEDGE CDN
Boost Performance and Core Web Vitals for Commerce Storefronts
Webscale CloudEDGE CDN is the world's first cloud-agnostic CDN designed for the performance and programmability needs of modern commerce. With advanced features, it enables Core Web Vitals improvements of up to 30 points.
Why Ecommerce Businesses Need
CloudEDGE CDN
Ecommerce merchants understand the importance of delivering fast, secure, highly available storefronts. Performance has never been more important, as merchants grapple with Google's Core Web Vitals in order to protect hard-earned search rankings.
 CloudEDGE CDN has been designed to enable modern commerce websites, with hundreds of product images and global customers, to deliver industry-beating Core Web Vitals, as well as additional services around observability, security, and delivery of headless frontends and PWA environments.
Core Web Vitals Improvements
CloudEDGE CDN delivers user requests and responses directly from the edge, addressing the needs of the commerce segment for faster, smarter, and optimized digital experiences.
End-to-End Asset Optimization
Powerful image optimization, through edge worker execution, enables high sales conversions by processing assets directly from the edge.
Dynamic and Secure User Experiences
Powered by dynamic, distributed edge computing, CloudEDGE CDN offers all-in-one, vertically-integrated security with a WAF, and highly scalable bot protection against threats such as carding attacks.
Infrastructure and Egress Costs Savings
Achieve operational efficiencies by packaging and running caching services, and security controls that offload trip overhead to the origin.
Inline Observability and Real-Time Control
The Webscale Portal and Web Controls together allow deep observability into traffic trends, threat analytics, forensics, and troubleshooting from the edge to the origin.
Configurable and Programmable
Enable intelligent code execution and testing processes, from development to production, all from within the Webscale Portal.
End-to-End Manageability for Faster Storefronts
With CloudEDGE CDN, modern commerce businesses have an easily scalable solution that enables Core Web Vitals and Lighthouse score improvements.
Eliminate Cloud Deployment Bottlenecks
Execute on-arrival image optimization at scale, per request context, with load balancing, edge caching, and service handling – all located at the edge.
Multi-Cloud and Commerce Independent Delivery
Eliminate cloud lock-in with CloudEDGE CDN. Deliver from the edge, across any cloud provider or region, for complete operational flexibility and scale.
Strong Security
From WAF, fraud detection and bot management for carding attack prevention, CloudEDGE CDN provides on-the-fly security handling at scale to origin servers.
Single Pane of Glass Observability
The Webscale Portal and Web Controls together allow deep observability into traffic trends, threat analytics, forensics, and troubleshooting from the edge to the origin.
DevSecOps and Continuous Edge Delivery
Leverage automation and highly defined DevSecOps protocols to enable fast setup of a reliable CI/CD pipeline for commerce application delivery.
Based on the CloudEDGE platform, CloudEDGE CDN accelerates page load times by selectively caching static assets and utilizing pre-deployed Webscale code at edge nodes closest to the requester, for tasks such as image optimization, or security against carding attacks. This reduces latency while offering deep application insight and observability, with real-time logging and flexible security policy controls.
New code deployments are automatically tested and deployed at Webscale global edge locations without any IT or DevOps constraints around the provisioning, scaling, or management of origin servers.

"We've seen a marked improvement in website performance, and our Core Web Vitals scores, which allows us to compete effectively in a business where the level of engagement, conversions and revenue are all dependent on the overall user experience."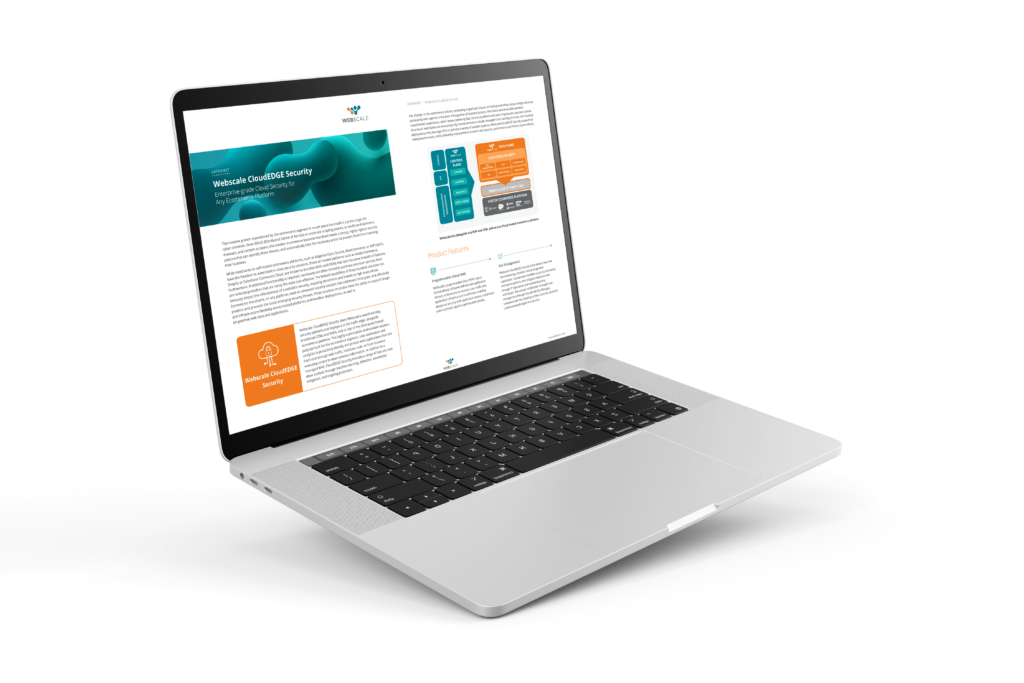 Get Started with
Webscale CloudEDGE
CDN
Get Started with Webscale CloudEDGE CDN

Enhance web performance instantly with intelligent caching, end-end image optimization and serverless edge infrastructure
Request

a Meeting

Schedule a 15-minute call with one of our
ecommerce specialists