If you're in the e-commerce business, you already know that the time to start preparing your online storefront for the upcoming holidays was yesterday! With billions of dollars in revenue up for grabs, this is easily the most important (and lucrative) time of the year.
The National Retail Federation expects holiday retail sales during November and December to increase up to 4.2 percent over 2018, for a potential total of over $730 billion.
The dramatic increase in online shoppers (and site traffic) during this time of the year has had many a giant buckling at its knees – with everyone from J.Crew's, Lululemon, Lowe's, Ulta, and Walmart experiencing downtime in the past! It's worth remembering that this is also a time when the volume, intensity, and sophistication of cyber-attacks, are at their worst.
Is digital commerce infrastructure in 2019 ready to deal with this onslaught of holiday shoppers and hackers? We conducted a survey of more than 400 online merchants, with annual revenues ranging from under $10 million to over $1 billion, to find out.
The primary goal of the survey was to find out how confident e-commerce business owners were with respect to their storefront's performance during the upcoming holiday season, in terms of site traffic, speed, uptime, and security, and to identify potential site infrastructure gaps and challenges.
Site Traffic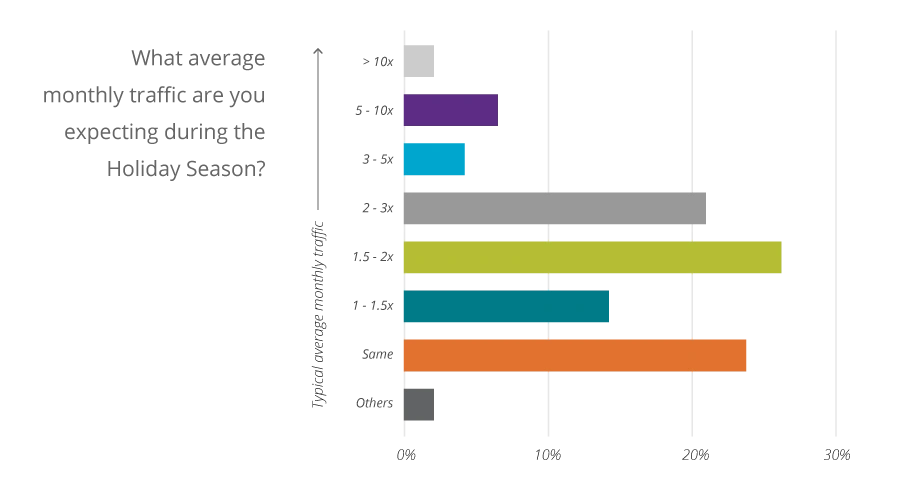 Our survey revealed that close to 35% online merchants expect to see more than 2X of their average monthly site traffic during the holiday season, while over 9% expect to see more than 5X.
Site Availability and Performance
Site downtime is common during the holiday shopping season as online stores are inundated with thousands, even millions of shopping requests. Downtime can have devastating repercussions on revenue as well as brand image. Here at Webscale we often talk about slow being the new down, because it's well documented that slow page load times can have a similar effect as downtime with regards to user experience and conversions.

According to our survey, while almost 40% online merchants are worried about either site downtime or slow page loads, more than 16% respondents claimed they are worried about both these issues.
Cybersecurity

With more consumers buying online than ever before and holiday spending running into hundreds of billions of dollars, hackers and cybercriminals are being presented with an opportunity too good to miss. According to our survey, almost 42% of online storefronts are concerned about cybersecurity-related incidents: DDoS attacks, fraud, credit card theft attempts, etc. during the upcoming holiday season.
Holiday Season Readiness, or Lack of it

Our findings revealed that more than 39% merchants are not confident about their online store's preparedness for the upcoming holiday season.
Addressing Hosting Infrastructure Gaps
100% uptime, blazing fast site performance, and comprehensive security are critical to delivering a great digital experience for shoppers, while protecting their identity, confidential data, and credit card information from hackers.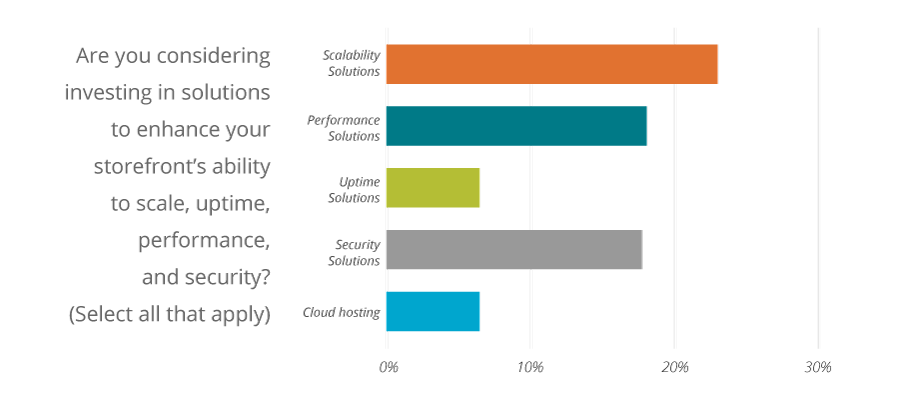 Over 23% of our survey respondents indicated an interest in acquiring auto-scaling capabilities, while around 19% were interested in solutions that improve performance and security, each.
The above results collectively indicate that while the majority of online retailers are confident their storefronts are ready for the holiday season, there is still a significant percentage of them that are concerned about site downtime, performance issues, cyberthreats, and overall lack of readiness. On the positive side, a lot of them know what solutions they need to deliver a great user experience during their busiest time of the year.
Only time will tell how online stores actually perform during the holiday season. We will be conducting a similar survey for merchants right after, to find out.
Stay tuned for our complete 2019 State of E-Commerce Infrastructure Report, available early next year.