[INFOGRAPHIC] 2021 Global Headless Report
Consumers have become disloyal, so delivering a great user experience is key to securing their continued attention. As a result, the world of modern commerce is increasingly embracing an omni-channel strategy of multiple consumer touchpoints across a buyer's journey.
A headless build is at the forefront of this transformation because of its flexibility, and its ability to break apart the monolithic applications of the past. Merchants can deliver any user experience, to any device, with the user interface decoupled from the back end ecommerce application and with the agility to provide new features and functions, as often as they need to, while remaining relevant to the fickle buyer. 
As ecommerce continues to grow unabated this year, both merchants and developers are breaking down technology barriers to deliver seamless customer experiences across any device or browser. They also want to retain creative freedom, while reducing friction between internal stakeholders, and enhancing conversions and revenue as the business scales.
Adopting a headless ecommerce infrastructure is a path to achieving measurable business goals like empowering your teams, customizing and personalizing the user experiences, enhancing Core Web Vitals scores, and scaling as you grow.
Many are actively considering a headless approach, while some are still in the evaluation stage and others are unsure about the need and benefits.  So, we decided to conduct one of the widest headless-focused surveys in the ecommerce industry to find out.
We reached 1604 ecommerce professionals, both merchants and digital agencies to understand their key concerns, technology preferences and critical business priorities while exploring a headless build for their storefronts. The findings have been compiled into a report containing many critical insights and strategies to power omni-channel customer experiences.
It's completely free, and available for download here. But for those with a limited attention span, the below infographic highlights some of the key metrics, and if you like it, please do share.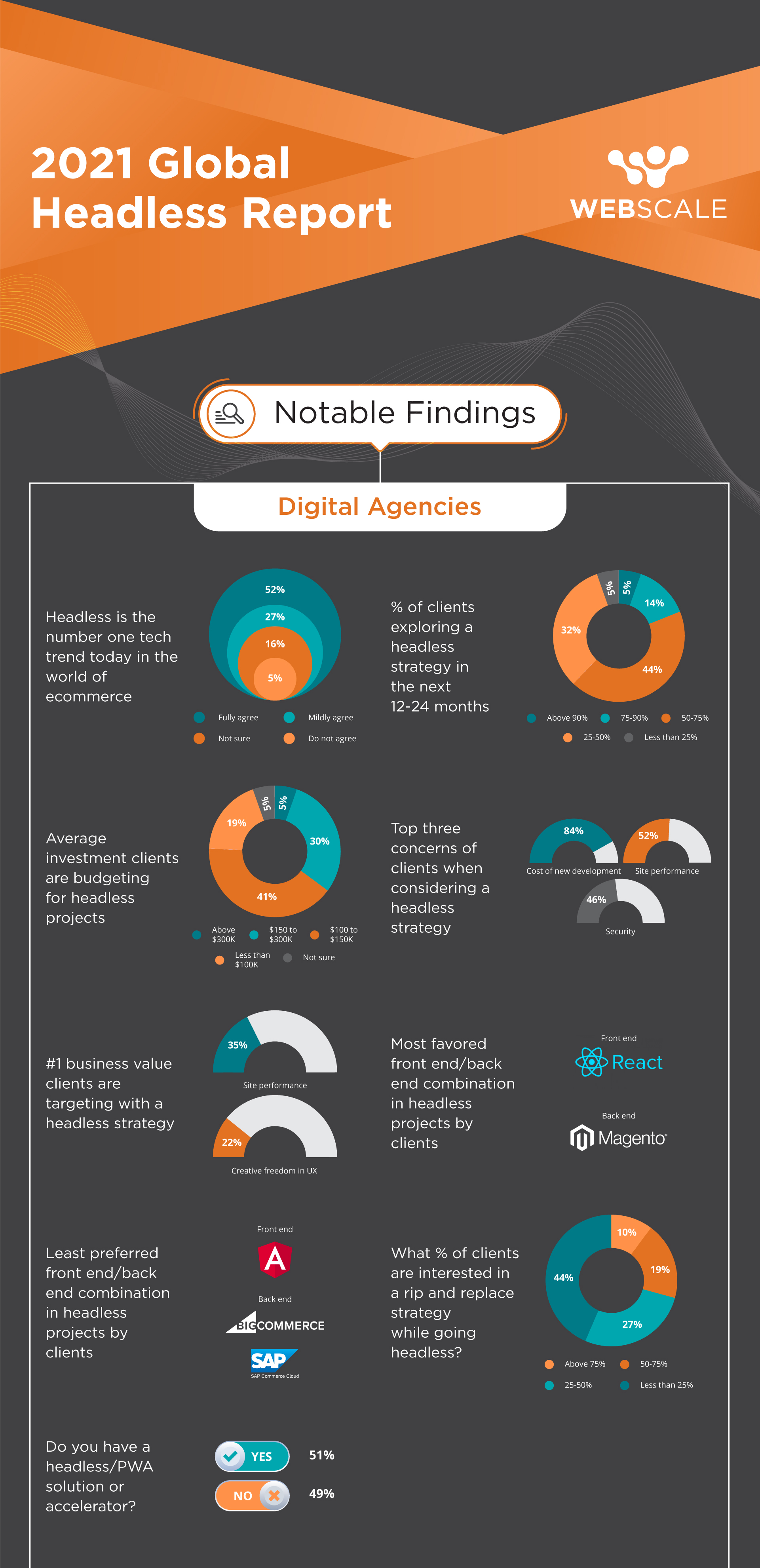 Feel free to use the infographic on your blog/website with appropriate attribution to Webscale. Copy the code in the text area below:
[INFOGRAPHIC] 2021 Global Headless Report, source: Webscale
Though hugely beneficial, a headless approach is both expensive and time consuming to realize. Work with a digital agency and cloud delivery provider with proven expertise in understanding your unique needs, evaluating the business case and seamlessly managing this strategic project from start to finish. Webscale works with a growing ecosystem of leading digital agency partners and would be happy to make a recommendation.
Webscale offers tailor-made cloud delivery infrastructure designed around the needs of headless storefronts and PWAs, with complete visibility into how the performance and availability are impacting the user experience across multiple devices. Combined with the Webscale CloudEDGE CDN, the benefits to ecommerce merchants include enterprise-grade security, incredible performance and unlimited scalability at every layer of the application.
If you'd like us to make a recommendation or wish to speak to one of our headless commerce specialists, drop us a note to info@webscalenetworks.com and we'll get in touch soon.