Webscale CloudEDGE Security
Enterprise-grade Cloud Security, Built for Commerce, Deployed at the Origin and at the Edge
Webscale CloudEDGE Security is deployed at the edge, alongside any CDN or WAF, in any cloud and on top of any ecommerce platform. Leveraging automation and analytics, CloudEDGE Security proactively identifies and protects web applications.
Why Ecommerce Businesses need
Webscale CloudEDGE Security
Websites protected by CloudEDGE Security have always-on, 360-degree security with application-aware, customized rules to protect against sophisticated attacks. In addition to a managed WAF, CloudEDGE Security includes a range of features that allow for real-time application monitoring and analysis through machine learning, detection, automated mitigation, and ongoing protection.
CloudEDGE Security is available as an add-on to all Webscale cloud delivery plans, or as a stand-alone product for merchants and developers struggling with inadequate protection on hosted ecommerce platforms. Unlike current products that leave remediation to the merchant or the developer, Webscale's DevSecOps team works alongside to help detect and protect.
Protect the Application from Unwanted Traffic 
Prevent cyber criminals from circumventing the firewall and directing their attacks at the application tier and database with Webscale App Shield, which locks down access to application infrastructure from any traffic not approved by the Webscale data plane.
Detect and Mitigate Bad Bots in Real-time 
CloudEDGE Security offers real-time bot monitoring, detection and management capabilities. Proactively identify suspicious browsing and attack patterns, and mitigate malicious bots through IP reputation and machine learning. 
Activate DDoS Protection with a Single Click
Webscale's DDoS Shield Mode offers single-click protection by instantly forcing the application to grant access only to humans while the DevSecOps team works hard to identify the root cause, assuring peace of mind without overhead.
Ensure PCI-DSS Compliance
Webscale CloudEDGE Security's WAF is Level 1 Service Provider-grade PCI-DSS compliant. With Webscale, you can quickly and easily protect your customers' sensitive data from external threats, without making any changes to your web application.
OWASP Top 10 Threats
CloudEDGE Security automatically protects critical web applications from the most common vulnerabilities, such as SQL Injections, Cross-Site Scripting (XSS), Cross-Site Request Forgery (CSRF), and other emerging OWASP Top 10 threats.
Unmatched Observability and Control
Webscale's Web Controls allow a user, of any skill set, to quickly take action to ensure enterprise-grade security of their web applications. Site administrators or Webscale's teams can create the equivalent of firewall rules, with no limits.
Enhance Trust Between Browser and Application
CloudEDGE Security extends security beyond traffic and application infrastructure to the browser, where real-time CSP protection validates "trusted" domains, and prevents blocked domains from executing scripts on the browser.
Programmable Cloud WAF
Webscale's programmable WAF uses a decentralized, software-defined web application delivery architecture, to monitor traffic and infrastructure in real-time, enabling always-on security with application-aware, customized rules to protect against attacks.
Deployed on top of any ecommerce platform and alongside, or as a replacement for, traditional CDNs and WAFs, CloudEDGE Security uses automation and analytics to proactively identify and protect web applications from SQL injections, cross-site scripting (XSS), server side request forgery (SSRF) and other sophisticated attacks.
CloudEDGE Security is loaded with advanced features to offer bullet-proof security. In addition to a managed Cloud WAF, it includes Bot Manager, App Shield, DDoS Shield, and real-time CSP Protection, all enabled through Web Controls, a DIY policy and rules engine inside the Webscale Portal.
"We've been very impressed with the security and support offered by Webscale. It's far in advance of anything we have received before."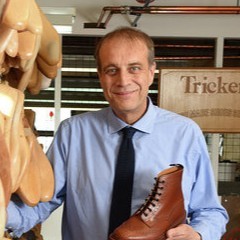 Martin Mason
Managing Director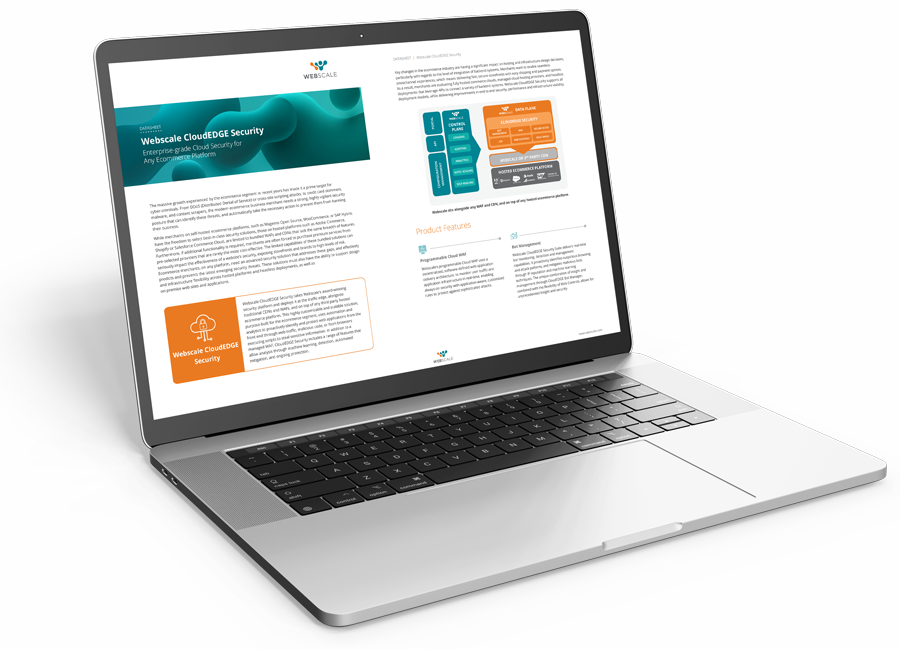 Get Started with
Webscale CloudEDGE
Security
Get Started with Webscale CloudEDGE Security

The gold standard in 360-degree ecommerce security, leveraging automation and analytics to identify and defend against sophisticated attacks
Request

a Meeting

Schedule a 15-minute call with one of our ecommerce specialists