Let's Partner to Drive New Business.
For Your Customers and Us.
Download our Partner Program Primer
Check out our Partner Story on Binary Anvil
Seeking Partners

Who Put Customers First!
Webscale's family of partners have a customer-first approach, it's why we work with them. With over 100 digital agencies, leading ecommerce platforms and global cloud service providers, we're proud to be associated with some of the leading names in the ecommerce industry.
Digital Agencies
Webscale partners with many of the top digital agencies around the world to deliver truly compelling user experiences to our end customers.
Technology Partners
Webscale powers leading ecommerce platforms enabling them to deliver engaging customer experiences with unsurpassed security, scalability, performance, observability and control.
Cloud Service Providers
Webscale provides ecommerce expertise to the world's leading cloud providers so that they can go beyond infrastructure, and deliver more personalized services to their customers.
Tools

and

Processes

Platform, Cloud and Tool Agnostic for Maximum Flexibility

Webscale's "any cloud, any platform" approach allows us to easily integrate our tools and processes with those of our partners to ensure hassle-free project engagements, whatever their technology stack and affiliations.
The Webscale Portal
Unarguably, the most intelligent observability tool ever built for the ecommerce industry, offering a single pane of glass view into the health of any digital business – traffic, sources, conversions, delivery infrastructure, and user experience. The Webscale Portal is available to customers and partners, to gain control of their managed storefronts, and to better manage their availability, security and performance.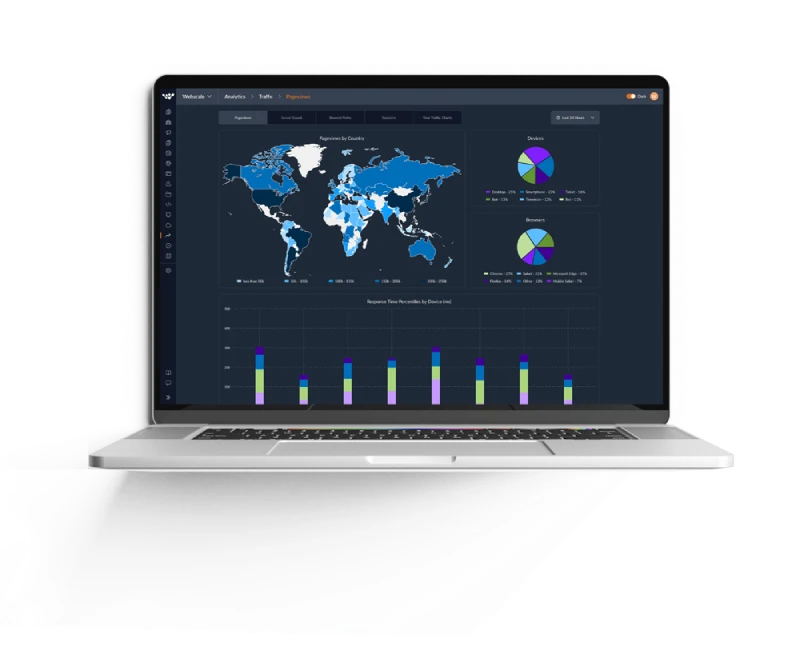 Generate New Revenue Streams
Webscale partners receive immediate benefits for referrals through a simple electronic contract that requires no commitment. Once you make a warm and qualified introduction, we bear the cost of selling, closing, implementing, servicing, and delighting the businesses referred to. The end result is unmatched customer loyalty, significantly better customer retention, and regular commissions as new revenue streams.
Flexible Deployment

Models

Webscale understands that every customer is somewhat unique, with different requirements of their cloud delivery provider. We have developed flexible deployment models varying from a proxy-only approach for specific needs, such as security or performance, through presentation layer-only designed for PWA/headless use cases, or software for hosted commerce clouds, and all the way to fully managed delivery in the public cloud.
Webscale Data Plane/Proxy

Data Plane
For merchants needing security, performance and compliance, delivered with Webscale Security (including a WAF, Web Controls, DDoS Shield, advanced bot management) and Webscale CDN (including advanced image optimization and dynamic site cache). Perfect for merchants on hosted commerce clouds like Adobe Commerce, Shopify Plus, Salesforce Commerce Cloud or BigCommerce.
Webscale Frontend Presentation Layer

Frontend Delivery
For merchants and agencies considering a content management system, a headless or PWA environment for their growing storefront, or a customized frontend. The Webscale platform delivers any commerce backend, or any custom or open source PWA framework, in a matter of minutes through containerized or serverless deployments. Suitable for merchants on platforms such as Adobe Commerce, Magento Open Source, Shopify, Shopware, Hybris, Salesforce Commerce Cloud or BigCommerce.
Webscale SaaS for Commerce

Webscale SaaS + Customer Cloud
For merchants on any commerce platform and required to maintain ownership of their own cloud environment in AWS, Google, or Azure for compliance or other business reasons. This model enables merchants to work with Webscale to ensure the availability, performance and security of their online storefront, while providing a single pane of glass observability into their infrastructure, backed by a global DevSecOps team monitoring and managing sites 24x7x365.
Webscale Complete Plans

Complete Solution
For merchants looking for a complete solution, leveraging Webscale's full SaaS stack of performance, security, availability and compliance, combined with multi-cloud delivery at an affordable and predictable cost. Webscale provides end-to-end ownership of the customer experience with automation, and machine learning, backed by a global DevSecOps team monitoring and managing sites 24x7x365.
Best

Practices

With experience gained from migrating, hosting, optimizing, managing, and supporting thousands of ecommerce storefronts in the public cloud, Webscale has developed a robust set of best practices around web application deployment and maintenance.
Continuous Delivery
Ecommerce websites undergo frequent updates to react to competitive pricing, inventory availability, and marketing events. Webscale enables a continuous delivery framework that is software-centric, programmable, automated, and repeatable while ensuring reliability, availability, security, and performance across multiple releases of the application.
DevOps
DevOps philosophies are being broadly adopted by ecommerce businesses to procure infrastructure in scheduled intervals and increase deployment speed. Webscale deploys storefronts as a software-defined infrastructure, introducing automation workflows that eliminate human errors, while saving time as application changes are published.
Application Environments
Ecommerce applications require different environments—typically, a development, staging, and production environment, so that code changes can pass through various stages of quality assurance (QA) before being published. Webscale creates environments with a single-click, actively scales out application servers, mirrors the database, and regularly takes verified backups.
User Acceptance Testing
Webscale enables A/B testing and blue-green deployments, where you can evaluate different web page designs. By directing a portion of traffic to an alternate server set, or tagging a part of the user sessions, the customer response can be compared to help business owners decide which experience is most likely to enhance revenue.