Webscale CloudEDGE Security
Enterprise-grade cloud security, deployed at the edge to protect any hosted ecommerce platform
Webscale CloudEDGE Security takes Webscale's award-winning security platform and deploys it at the traffic edge, alongside traditional CDNs and WAFs, and on top of any third party hosted ecommerce platform.

This highly customizable and scalable solution, purpose-built for the ecommerce segment, uses automation and analytics to proactively identify and protect web applications from the front end through web traffic, malicious code, or from browsers executing scripts to steal sensitive information.
Why Ecommerce Businesses
Need Webscale CloudEDGE Security
The WAFs and CDNs typically bundled with hosted platforms such as Magento (Adobe) Commerce Cloud, Shopify or SAP Commerce Cloud lack the same breadth of features as specialized solutions. Merchants wanting to upgrade, within the confines of the platform, are often forced to purchase premium services from expensive, pre-selected providers.
The limited capabilities of these bundled solutions can seriously impact the effectiveness of a website's security, exposing the merchant to significant levels of risk.
Ecommerce merchants, on any platform, need an advanced security solution that addresses these gaps, and effectively predicts and prevents the latest emerging security threats.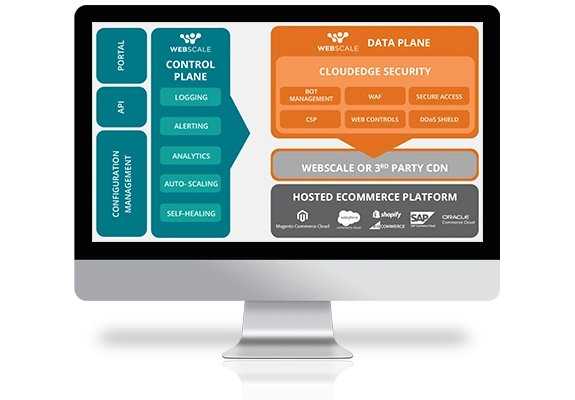 Detect and Mitigate Bad Bots in Real-time
CloudEDGE Security delivers real-time bot monitoring, detection and management capabilities. It proactively identifies suspicious browsing and attack patterns, and mitigates malicious bots through IP reputation and machine learning. Together with Web Controls, Webscale Bot Manager delivers unprecedented visibility and security.

Protect the Application from Unwanted Traffic
Cyber-criminals will often attempt to circumvent the security layer provided by the firewall and direct their attacks at the application tier and database. Webscale CloudEDGE Security delivers an App Shield which locks down access to application infrastructure from any traffic not passing through the Webscale data plane.
Activate DDoS Protection with a Single Click
CloudEDGE Security identifies and blocks millions of attacks daily, automatically learning from each new threat. When under a suspected DDoS attack or a flood of bots, Webscale's DDoS Shield Mode offers single-click protection by instantly forcing the application to only allow humans in, keeping the bad bots out, so the application can function normally.

Ensure PCI-DSS Compliance
Webscale CloudEDGE Security's WAF is Level 1 Service Provider-grade PCI-DSS compliant, ensuring your web applications are adhering to the latest PCI security standards. With Webscale, you can quickly and easily protect your customers' sensitive data from external threats, without making any changes to your web application.

Cover for OWASP Top 10 Threats
Webscale CloudEDGE Security automatically protects critical web applications from the most common vulnerabilities, such as SQL Injections, Cross-Site Scripting (XSS), Cross-Site Request Forgery (CSRF), and other OWASP Top 10 threats.

Unmatched Visibility and Control
Webscale's Web Controls consist of a DIY policy and rules engine that allows a user, of any skill set, to quickly take action to ensure enterprise-grade security, high availability, and fast performance of their web applications. With Web Controls, site administrators can also create the equivalent of firewall rules, with no limits on how many can be enabled at any point in time.

Enhance Trust between Browser and Application
CloudEDGE Security extends security beyond traffic and application infrastructure, to the browser, because malicious third-party scripts can be executed at this level. Our real-time CSP protection enhances trust between the browser and application server, validating "trusted" domains, and preventing blocked domains from executing scripts on the browser.
"Since moving into the cloud with Webscale, we've seen our site's performance increase and our hosting costs go down. Webscale has also been instrumental in protecting our site from harmful attacks and preventing bad bots from crawling our site and affecting site stability and performance. We couldn't be happier!"
Additional Features and Functionality
Webscale's programmable Cloud WAF uses a decentralized, software-defined web application delivery architecture, to monitor user traffic and application infrastructure in real-time, enabling always-on security with application-aware, customized rules to protect against sophisticated attacks.
With advanced features such as Site Splice and Site Cache, agencies and developers can easily route device-specific and functional needs to the appropriate services dynamically, and in turn, cache the responses, making application development and user experience faster and without third party bottlenecks.
What our Customers are Saying
"We've had zero downtime and much faster site performance on Webscale than we did with our previous managed hosting provider. Webscale has been instrumental in helping us get through the holiday season.
Andrew Savage
Chief Operating Officer, Dolls Kill
"One of the reasons we went with Webscale was for the support. They even made suggestions on changes to Magento – they can handle anything. It's like having a couple of extra team members. Since switching to Webscale, our site has been running much faster and we've had zero downtime."
Jesse Thomas
Web/Ecommerce Manager, Skate One Corp
Request a Demo

Schedule a 15-minute call with one of our ecommerce specialists.