Webscale Customer Portal
A single pane of glass view of your storefront's cloud infrastructure and user experience
The Webscale Customer Portal provides insight into the key metrics affecting the health of your digital business, such as traffic, sources, conversions, delivery infrastructure, and user experience.

Designed for our own support team, Webscale's portal is available to customers and partners, to gain insight and visibility into our customers' storefronts to better manage their availability, security and performance.
High-level Overview of Uptime, Sessions, and Outstanding Issues
The dashboard is the first screen users see when they log in to the portal. It provides a high-level overview of your key performance indicators (KPIs) – page views, sessions, uptime, number of outstanding support tickets, and events data. It also provides a quick look at overall application health and status as well as traffic metrics. Below, customers can view server and status information for each application, along with scaling and cache details.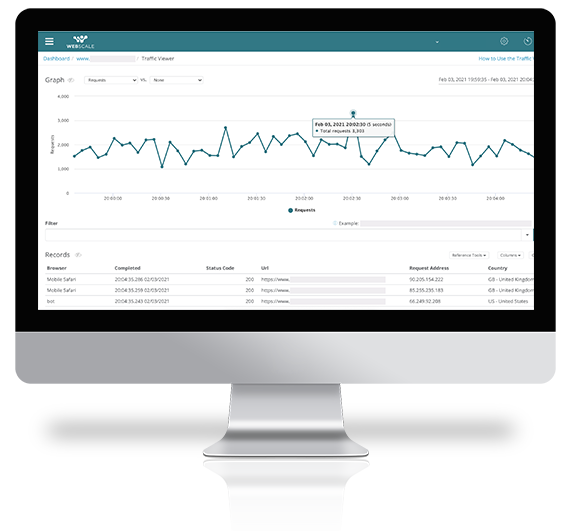 A Comprehensive Understanding of Website Traffic
The Traffic Viewer allows site administrators to measure, monitor, and categorize website traffic. They can identify which countries or regions contribute the most traffic, which can help identify new markets and opportunities. For example. users can analyze website traffic trends over the holiday season, or during any sales event, to obtain more accurate ROI numbers for the effectiveness of their marketing.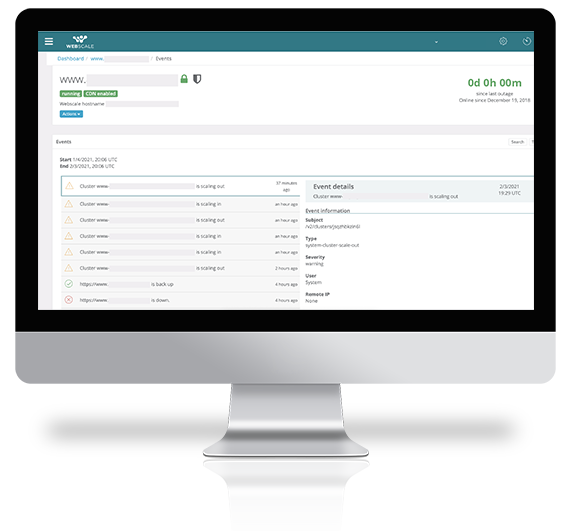 Granular Insight into All Website Events
The Events section shows everything that happens on the website backend – scale out events, server usage, cache flushes, response time increases/decreases, administrator activity, etc. It is a near real-time log, updated every five minutes. 
The Events section is one of the most powerful tools Webscale provides to troubleshoot websites. The audit log allows site administrators to monitor and track activities, who has accessed the site, and what they did when they were there. This section also indicates if the website's backup is being taken consistently, which is crucial when a rollback is required.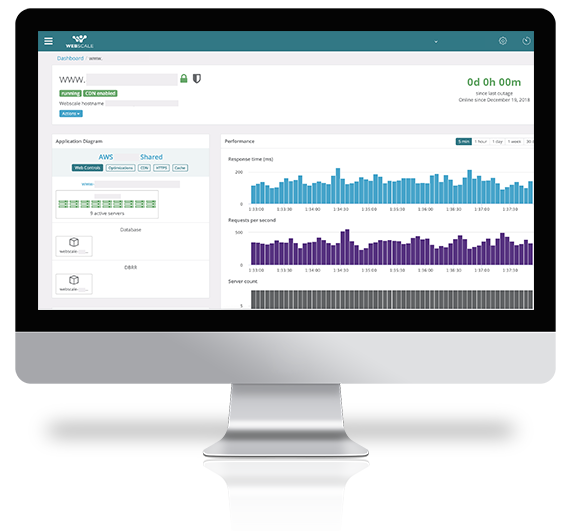 Monitoring Website Uptime and Performance
The Webscale Customer Portal allows website administrators to monitor uptime and performance in real-time. It enables them to monitor page response times, server count (due to scale out/scale in events), and data transfer rates, at any given time. Each detail has a date and time stamp and can be drilled into for further clarity.
They can also look at application server information – scaling status, number of sessions, and whether they are running, stopped, or in maintenance mode. These features are especially helpful when there are a lot of ongoing projects, generating a lot of event logs, which can be challenging to keep track of.
Tracking Potential Cyberthreats
The Threats section in the portal shows all web application firewall (WAF) hits that the customer's website has experienced, and the actions that Webscale's automated system has taken to mitigate potential cyberthreats or bot attacks. Customers can also block or allow IPs on the go, or have a timeline for them to expire.
The Security section also allows users to keep track of when their SSL certificates are expiring. This feature is particularly helpful when customers have multiple domains/applications.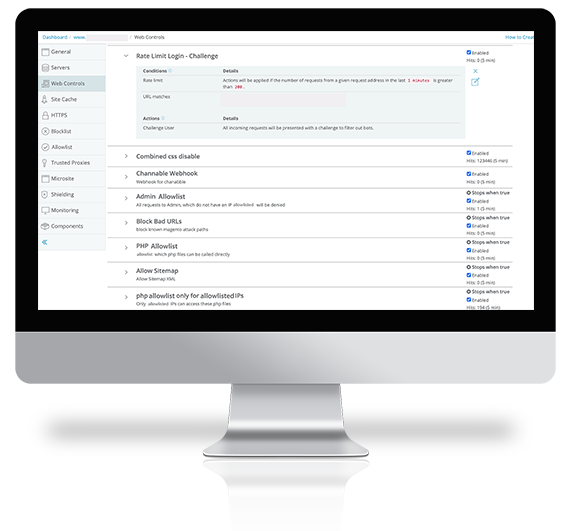 Building Rules and Automating Firewall Actions using Web Controls
One of the portal's most powerful tools, Webscale's Web Controls consist of a DIY policy and rules engine that allows a user, of any skill set, to quickly take actions to ensure enterprise-grade security, high availability, and fast performance of their web applications.
Webscale enables site administrators to use pre-defined, pre-tested security rulesets based on their ecommerce application, minimizing the need to discover, define, and maintain the rules themselves. With Web Controls, site administrators can also create the equivalent of firewall rules, as well as sequences of these rules, capable of performing complex tasks such as dynamic allow-listing, or rate-limiting checkout attempts based on user behavior. There are no limits on how many Web Controls can be enabled at any point in time.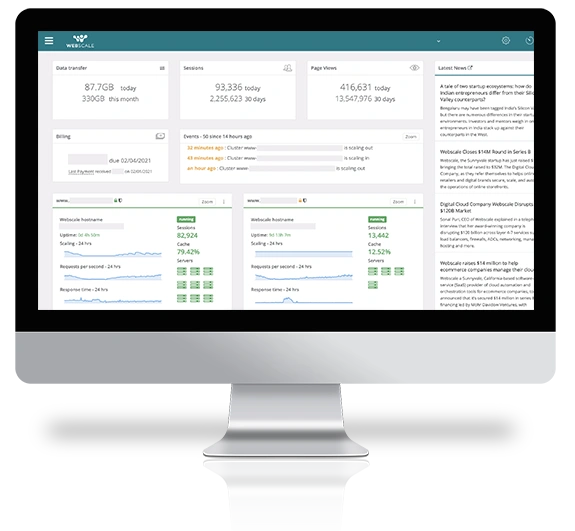 Request a Demo

Schedule a 15-minute call with one of our ecommerce specialists