In 2021, legal cannabis sales (medical and adult-use) across 39 states and the District of Columbia ($24.5 to $27 billion) overshadowed Starbucks ($20.5 billion). If you look at year over year growth in North America, cannabis industry sales won again, posting a 30% increase vs Starbucks at 25%.
The U.S. cannabis industry expects annual sales of $70 billion by 2026. Legal cannabis sales in Canada touched ~$3.8 billion in 2021 and are projected to reach $4.7 billion in 2022. 
Only 17% of legal cannabis sales were online before the pandemic but ecommerce sales spiked to 52% by mid-2020, and halfway through 2021 accounted for 38% of all legal cannabis sales. While the cannabis industry is convinced digital offers a compelling future, significant hurdles exist at the merchant and marketplace level:
Uptime: Traditional, high-touch scaling of servers is an antiquated approach to managing online storefronts and not suited to the dynamic nature of the cannabis business. Sites can experience significant fluctuations in visitor traffic and go down in the event of a major surge, leading to a loss of revenue and reputation.
Site speed: Cannabis sites, especially aggregators or marketplaces, can experience major slow downs because of the hundreds of product images and customers/patients accessing the site, all using different devices or browsers, and from widely distributed locations. And without automated end-end optimization and an intelligent observability tool to identify the root causes, maintaining consistent high performance is a challenge.
Mobile-friendliness: The majority of ecommerce visitors now come from mobile devices, and yet mobile accounts for less than 30% of ecommerce sales in the cannabis industry. Unfortunately, many online cannabis stores and marketplaces continue to be poorly optimized for mobile which critically impacts the shopping and checkout experience.
Security: Remember what happened to the Ontario Cannabis Store in May 2022? Most, if not all, recreational-use customers and especially first-time buyers, want complete confidentiality regarding their lifestyle choices. A data breach can be catastrophic for brands as not only credit card information, but also PII, is out in the open. Deploying a WAF is not enough; merchants and marketplaces need to invest in comprehensive security technology to safeguard their customer data and business.
At Webscale, we've learned a great deal about uptime, speed and security, working with leading cannabis brands like Trulieve, PharmaCann, and Airfield Supply Co., a lot of which we've included in our new eBook.
But if, like me, you're a visual person, the infographic below highlights the key challenges and how Webscale can offer complete pain relief and total relaxation.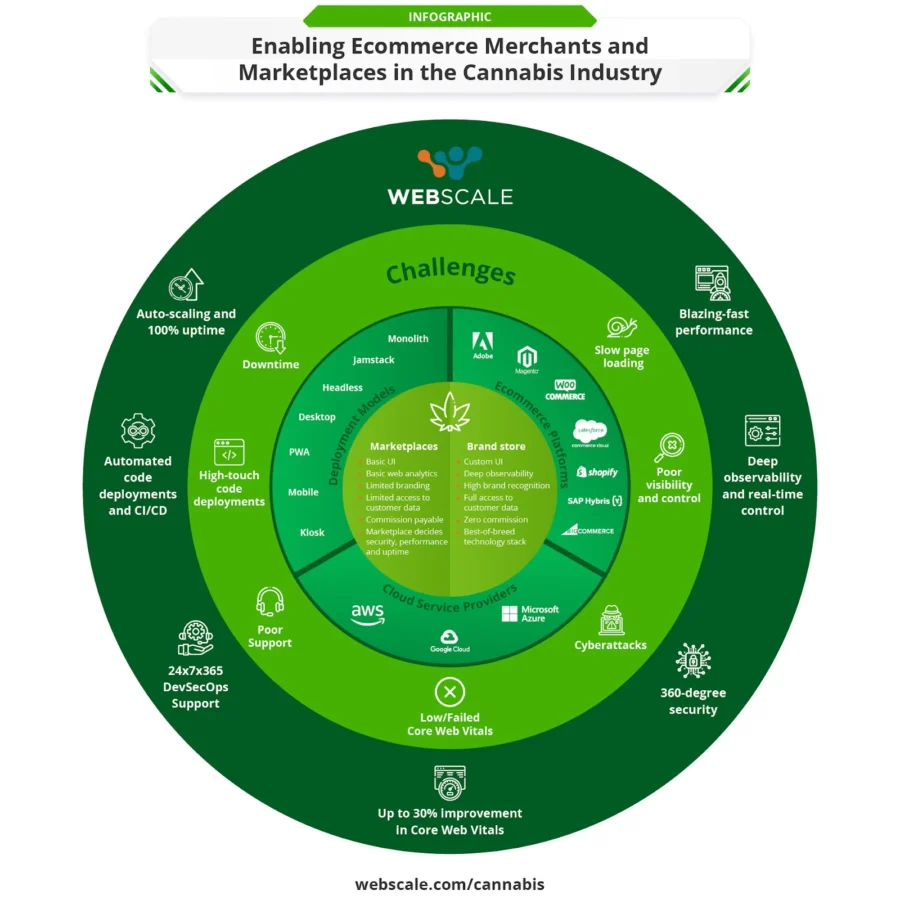 Feel free to use the infographic on your blog/website with appropriate attribution to Webscale. Copy the code in the text area below:
If the content resonates with you and you'd like to discuss how we can help accelerate your online business, please click here to schedule some time. If you're not yet ready, we'll also be at MJBizCon in November, if you'd like to meet there.