This article was originally published in Digital Commerce 360 on Feb 17, 2020.
The Cyber Weekend in 2019 was, undoubtedly, the biggest one ever in U.S. ecommerce history, with online shopping spend increasing to over $9.4 billion on Cyber Monday and more than $7.4 billion on Black Friday, an increase of almost 20% compared to 2018. But was it "better"? The answer depends on who you ask.
Costco and Nordstrom Rack had severe site availability issues as they could not keep up with the onslaught of shoppers during Thanksgiving and Cyber Weekend.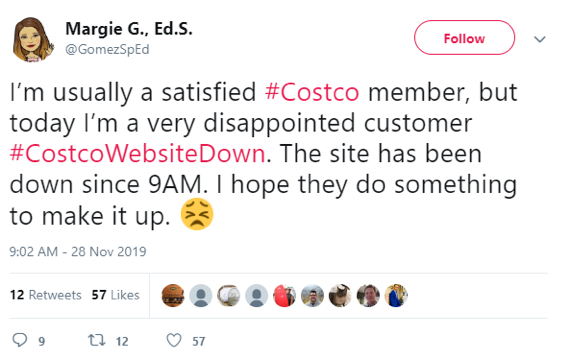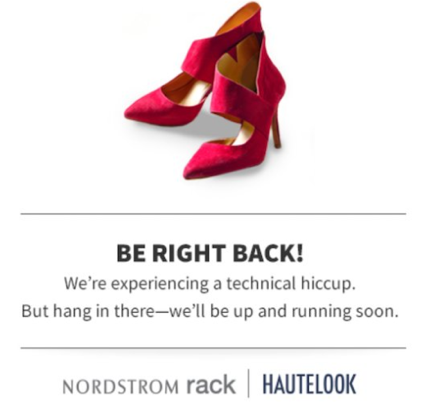 According to Business Insider, the Costco site was down for a minimum of 16 hours, leading to losses amounting to $11 million. "What it tells us, we could have done better than that. So we did leave something on the table there," said Costco's CEO Richard Galanti.
Fashion retailer H&M also experienced downtime for a short period, while Home Depot's site saw "slow load times." Other companies that faced site availability and performance issues included art and crafts store Hobby Lobby, cosmetic giant Sephora, and clothing brand Forever 21.
Online shoppers expressed their disappointment on social media at not being able to shop or complete their orders.
The State of Ecommerce Infrastructure 2019
Webscale conducted a pre-holiday survey in the latter half of 2019 to understand the expectations and insecurities among online merchants, with respect to the holiday shopping season. We followed this up by sending out our State of E-Commerce Infrastructure survey, after Cyber Monday.
The main objective of these surveys was to analyze how ecommerce businesses planned for and fared during the busiest time of the year, in terms of revenues, growth, page load speeds, downtime, and cybersecurity. The survey also investigated how ecommerce professionals felt about their current hosting environments, top issues they face, and infrastructure solutions they would like to invest in. Here are some of the top insights we discovered from over 450 merchants that responded:
Holiday Shopping Revenues
More than 29% of online merchants generate almost 50% of their annual revenue during the fourth quarter (Oct 1–Dec 31). The contribution is more than 50% for 7.3% of merchants.
Holiday Shopping Sales Growth
25% of online merchants saw almost 30% revenue growth in Cyber Weekend sales from 2018 to 2019, while 16% witnessed close to 50% growth. 5.4% of merchants reported more than 50% revenue growth.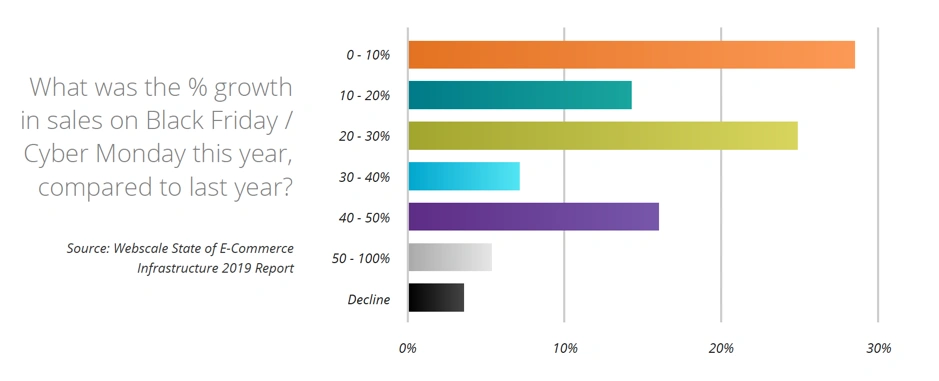 Site Traffic
While only 34.9% of online merchants expected more than 2X their average monthly site traffic this holiday season, 41.8% actually ended up at 2X or higher traffic.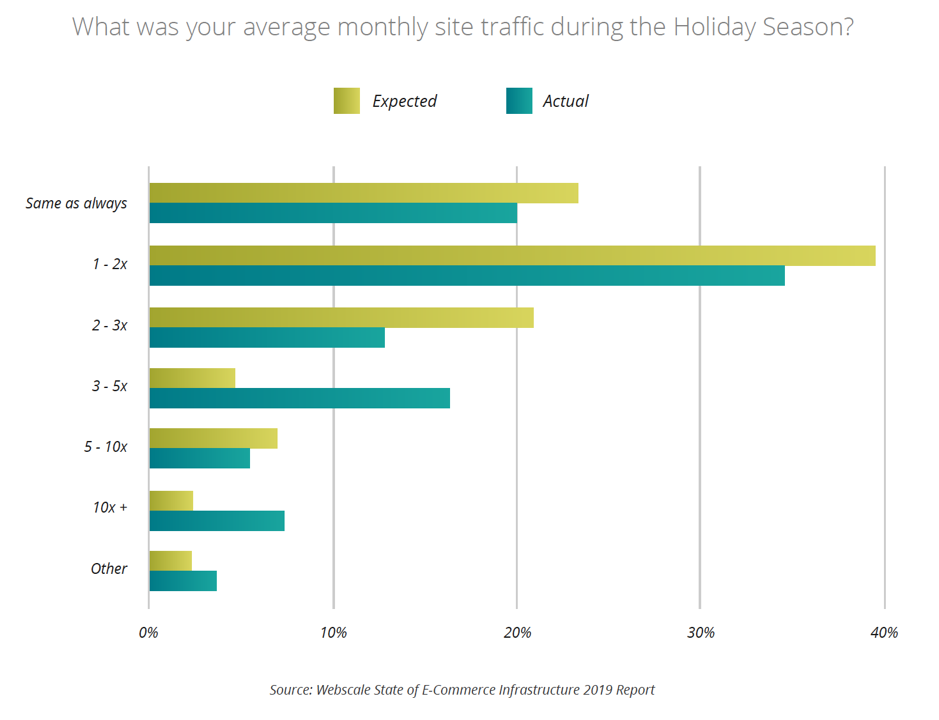 Downtime
24.3% of merchants experienced downtime in excess of 5 minutes (as compared to 23.9% in 2018) on Black Friday/Cyber Monday 2019, while 6.6% of storefronts crashed for more than 30 minutes (as against 5.5% in 2018). In our pre-holiday survey though, only 18.6% of merchants claimed that they were worried about impending downtime during the holiday season.
Site Slowdowns
 Our pre-holiday survey revealed that 37.2% of online merchants were concerned about slow page loads during the holiday season. However, 49.7% of them experienced page load times in excess of 3 seconds (as compared to 56% in 2018), 22.2% had page load times over 5 seconds (compared to over 30% in 2018), and 4.8% had intolerable page load speeds over 9 seconds (compared to about 9% in 2018).
Security-related Incidents
According to our pre-holiday survey, 42% of online merchants were concerned about cybersecurity-related incidents ranging from DDoS [distributed denial of service] attacks to credit card theft attempts. Last year, 21% of merchants admitted to experiencing these during the Cyber Weekend. This year, the number increased to 32.6%, a significant percentage of the hundreds of thousands of ecommerce websites operating globally.
Hosting Challenges
12.9% of online merchants cited cyber-attacks as their No. 1 challenge on Black Friday/Cyber Monday (compared to around 9% in 2018), 9.4% of merchants were plagued by downtime worries (compared to about 7% in 2018), and 8.9% stated site slowdowns were their biggest concern (compared to around 12% in 2018). Over 18% respondents reported heavy struggles with all three challenges (almost the same as last year).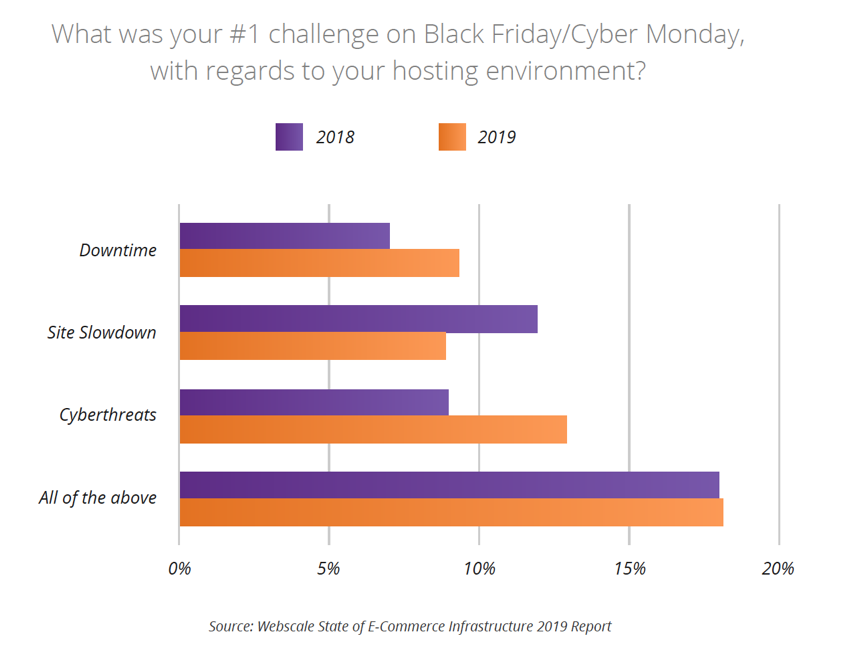 While it's clear that the holiday season is the most lucrative time of the year for ecommerce merchants, most of them continue to underestimate their incoming site traffic during this time and are just not equipped to cope with the demand surge. While merchants have made considerable improvements  this year in terms of their site performance infrastructure, downtime and cyberthreats continued to plague them during the 2019 holiday season, even more so than in 2018.
Ecommerce professionals are also finding it difficult to manage the hosting infrastructure themselves, or are working with managed service providers that lack adequate cloud expertise to deliver superior digital experiences.
If this isn't a wake-up call, we don't know what is!
There is a silver lining though, as a significant percentage of merchants are investing in infrastructure enhancement. While 29.5% of ecommerce merchants would like to buy solutions to improve site uptime, 14.9% would like to invest in technology that would help them scale their storefront on-demand. 30.7% of merchants are looking to deploy solutions that enhance site performance. And 35.9% of merchants are considering cybersecurity upgrades.
So was the holiday shopping season of 2019 truly better than the one in 2018? If you look at the revenue numbers, absolutely, but given the issues businesses faced keeping their online storefronts available, fast, and secure, it could've been bigger!
For more details and insights, you can download the complete State of E-Commerce Infrastructure 2019 report here.