Welcome to Tech Corner! In this new section of the blog, we'll be sharing some of our more technical content, including explainer blogs on some of the features and capabilities of the Webscale platform, as well as content from our development agency partners. We start with one of the most important components of the Webscale infrastructure—the Webscale Data Plane.
The Webscale Data Plane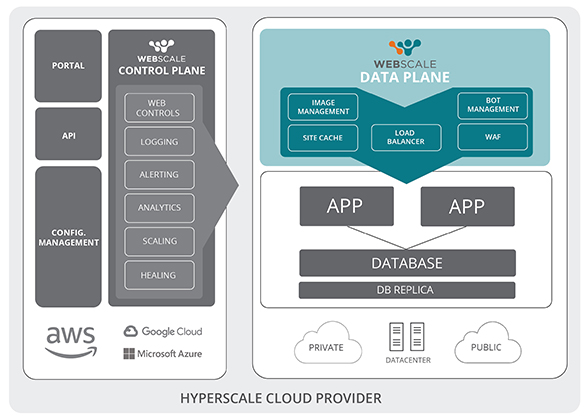 is the heart of your application, providing performance, security, flexibility, and scalability that today's modern ecommerce applications demand. So what exactly is the Webscale Data Plane? I'm glad you asked!
The Webscale Data Plane is a reverse proxy made up of multiple cloud servers, all managed by the Webscale Control Plane. As a reverse proxy, the data plane handles all traffic coming to your application. This allows the data plane to cache your application, improving performance for users of your application all over the globe.
Since the data plane sits between your users and your application, it's also able to lock down the security of your application by restricting access by known bad actors based on location, behavior, or other criteria that you can specify with powerful Web Controls. You and your customers can rest easy knowing that your site is not only fast and responsive but offers ironclad security during their entire transaction.
Because the data plane is made up of multiple cloud servers, it also increases the availability and stability of your application by removing the "single point of failure" that can be the kiss of death for an application receiving a surge in traffic. The Webscale Data Plane will autoscale to match demand, providing seamless performance regardless of spikes in traffic.
If your enterprise already has a cloud services account with a provider such as AWS, Azure, or Google Cloud, Webscale can create a dedicated private data plane within your existing cloud infrastructure, providing simplicity for your IT team both during and after deployment of your application on Webscale. Contact the Webscale sales team to learn more.
The Webscale data plane is the core of the Webscale infrastructure and allows for all of the performance, security, reliability, and scalability that your ecommerce application demands. It's a powerful and elegant way to ensure your application is living up to its potential.