Today's modern web applications have many components – shopping carts, blog posts, product lists, user reviews, and more. The traditional method of hosting all of a website's assets in a single server is no longer able to keep up with this complexity – especially on a high-traffic web application.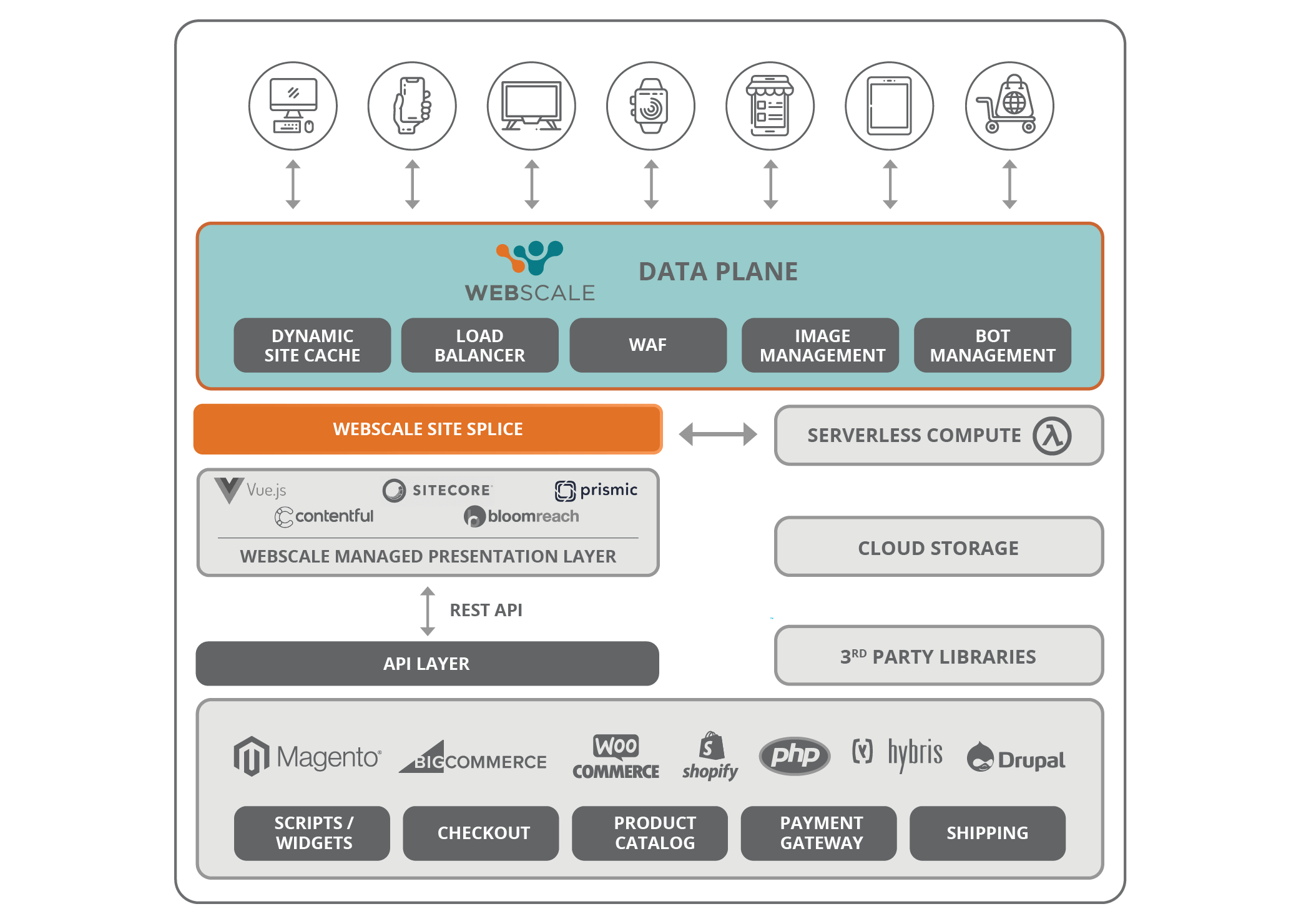 Webscale's Site Splice feature allows you to seamlessly build a web application from multiple sources, such as microsites, multiple backends, canned content, different storage engines, and more. It enables you to host all of these assets on different servers, across cloud providers, and through multiple data planes, while your customers get an uninterrupted and clean user experience. Enabled through Webscale's Web Controls, Site Splice allows your IT and web teams to continue to upload and modify content the way they're used to, no matter where that content is hosted or the technologies used.
Site Splice passes all of these disparate assets through the Webscale Data Plane – allowing them to be cached using Dynamic Site Cache, while also enabling you to apply other Web Controls and security rules to them.
Site Splice is particularly relevant in headless ecommerce deployments, where the front end (presentation layer) is decoupled from the back end, for a highly customized user experience, across different customer device types and interfaces. In these headless architectures, backend services and media can exist as different components, independent of each other. Rich user experiences are enabled by the front end making decisions on what backend components are used and which functionality of the backend is accessed. By enabling the "routing" of this device-specific traffic to specific components running within the backend infrastructure, or through 3rd party applications, Site Splice is a powerful way to manage your headless deployment.
To leverage the Site Splice feature, you can use the 'Use Alternate Backends' Web Control action to configure the various asset sources and rewrite the source URLs for SEO, so the URL in the address bar always indicates the same domain name. This makes Site Splice a powerful tool for branding and marketing, as well as another part of the overall Webscale performance toolkit.